Ryan 'Whitey' Weitzel is the Inspiration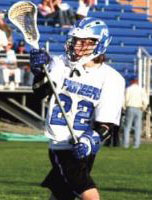 Ryan "Whitey" Weitzel is the inspiration of Ryan's Race. Ryan was an extraordinary individual who led his life with an amazing positive attitude, even while he battled the awful cancer that ultimately took his life. His life has been an inspiration to his family, friends and the L-S community. #lspride
The funds raised from Ryan's Race support two one thousand dollar scholarships that are given to two seniors who reflect Ryan's character and attitude.
Thank You!
On Saturday May 11, 2019, Lampeter-Strasburg High School hosted the 12th annual Ryan's Race. The high school varsity club, with assistance from the boy's lacrosse team, organized the 5k event in memory of Ryan Weitzel and the many others who have bravely fought cancer. The event also generates funds for the Ryan Weitzel scholarship for deserving seniors who have overcome obstacles in their high school careers. Ryan battled cancer for his middle and high school years yet never lost sight of living his life with positivity—no matter the issue. The organizers would like to thank the businesses that helped to sponsor the event: L.H. Brubaker, the family YWCA, Allergy Orchard, the Willow Street Car Care Center and Car Wash, Weigel Consultants, M Street, State Farm Insurance Agent Rip Lawhead and Chick-Fil-A.
A big thank you also goes out to all of the volunteers and participants who helped to make this a successful event. We hope to see everyone next year.
2019 Results
Get the full race results
Top Finishers
Guys:
First: Peter Weida (17:34)
Second: Tim Getz (17:38)
Third: Scott Roth (17:39)
Gals:
First: Kris Eves (22:54)
Second: Emily Weida (23:27)
Third: Mikala Coe (23:51)