14th Annual Ryan's Race
A Virtual 5k
Ryan's Race is back for 2021! This year's race is virtual. Participants planning to submit their times must register by May 8 and can submit a time for a 5k run any time between May 9-20.
Ryan 'Whitey' Weitzel is the Inspiration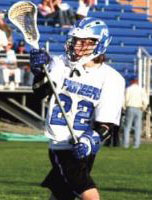 Ryan "Whitey" Weitzel is the inspiration of Ryan's Race. Ryan was an extraordinary individual who led his life with an amazing positive attitude, even while he battled the awful cancer that ultimately took his life. His life has been an inspiration to his family, friends and the L-S community. #lspride
The funds raised from Ryan's Race support two one thousand dollar scholarships that are given each year to two seniors who reflect Ryan's character and attitude.
This year's race:
This year the L-S Varsity Club will organize the 14th Annual "Ryan's Race." The money generated from donations and registration fees is used to provide scholarships. The race itself is virtual but an awards ceremony will take place on Saturday, May 22, 2021, on the L-S campus.
Middle School (boys and girls, grades 6-8)
High School (boys and girls, grades 9-12)
Adult (men and women, ages 18+)
Walkers
Best time awards will be given in the Middle School, High School, and Adult categories. The Walkers category is non-competitive.
Best time awards will be gift cards for local businesses. All awards and items will be available for pickup on Saturday, May 22, at the High School track at 9 a.m. or can be shipped for a charge.
A minimum of 10 runners must submit times in a category for it to become competitive.

Please register to receive texts about race information at
Remind 101.